Online stores have began the speculation on possible release dates for Blizzard Entertainment's sequel to the popular Diablo. EB World has set a date of November 2nd, while Software Etc./Babbages is saying late December. The latter date is probably the more accurate of the two, however a representative of Blizzard stated that a specific target date has not been set yet.

Update: Blizzard's Vice President, Max Schaefer launched an attack against EBWorld and Software Etc./Babbages, insinuating that the two companies made up the release dates, in order to avoid work. Mr. Schaefer stated, "The source of the date is Babbages and Software Etc. Even if we did release dates, they would not be the first ones to get them. The regularly make up such information - probably to avoid having to answer questions about dates."

A company spokesperson later added that Diablo 2 is still expected to be launched before the end of the year.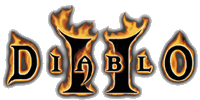 Diablo 2 date speculation begins