NEC Interchannel is porting their Saturn Strategy-RPG, Black Matrix to both PlayStation and Dreamcast. The Saturn version was released in Japan last August, the PlayStation Port is scheduled for this Summer, with the Dreamcast version, named Black Matrix: Advanced will be released this winter, with several enhancements.

Update: The Dreamcast version will be produced in limited quantities and released in July, not this winter, as previously reported.

The following brief description is courtesy of Shou-Sama:

Black/Matrix was a long delayed, hugely hyped strategy RPG published by NEC Inter Channel. Basically in the world of B/M, there are 2 kinds of people, black winged "masters" and white winged "slaves". In the beginning of the game you choose your master, but I've been told that does not affect the outcome of the game. There's even a male master for female players that love bishounen stuff. The character you play as (the default name is Abel) is seperated from your master who loves you and thrown in prison where he performs a miracle by changing a black winged master to a white winged slave. One of the other scholarly white winged prisoners proclaims you as their savior. From there, the game begins.
For a more complete preview, see Shou-Sama's webpage at sol.slu.edu/~chunge

Source: [The Magic Box]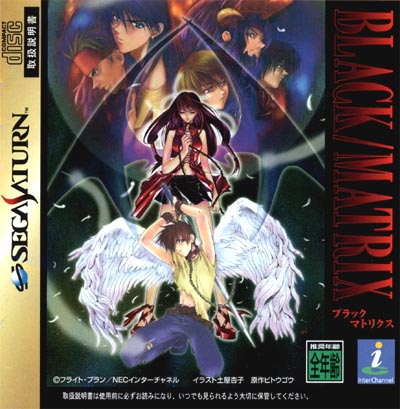 Black Matrix Saturn Package