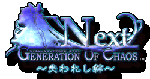 Idea Factory is currently working on its upcoming PlayStation 2 title, Generation of Chaos Next: Lost Bonds, a game that features separate RPG and Simulation modes. The RPG portion of the game offers the player the role of knight Eriru, a would-be king who flees his kingdom after being chosen as the next ruler. Another principal character is Princess Rozzi, who was to be married to Eriru prior to his departure. Rozzi is protected by her personal guardian, Rifaia, who is also a commander over Eriru. The final character to be revealed so far is teenager Poro, an expert of machinery who always travels with her own robotic companions in tow. Her origins are said to lie with a clan of devils.
In simulation play, uniting the continent is the objective, and a new Loyalty Degree System is employed to determine the allegiance of the generals to the kingdom. The game allows players to create up to ten generals. All are fully customizable in terms of the appearences, occupations and abilities of each general.
Generation of Chaos Next: Lost Bonds will feature characters from past Idea Factory games such as Kingdom of Chaos and Spectral Force, both of which were never released outside of Japan. The game is scheduled for a Spring 2002 release in Japan, but the exact format and price are yet to be announced. RPGamer will continue to follow this title's progress in the months ahead.