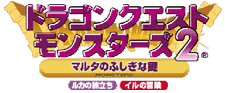 It obtained over a million preorders as fans anxiously awaited its release. It sold more than 500,000 copies in its first week of availability in Japan. And now, North American fans have reason to get excited as well. Enix has officially confirmed that their latest Game Boy Color RPG title, Dragon Warrior Monsters II, will be available here this coming fall.
Dragon Warrior Monsters II: Cobišs Journey and Dragon Warrior Monsters II: Tarašs Adventure will both see a North American release, bringing fans the tale of a brother and sister who must find and train an army of Dragon Warrior monsters in an effort to save their island from the mischievous Prince Kameha. Each title features a unique story and a different main character, with their plots closely intertwined. The release will retain all the Japanese features that made the game a hit, including more than 300 monsters to capture and train, and the option to combat your monsters against a friend's via the Game Boy Color's Link Cable.
No firm release date was mentioned for the North American version of the game, and it was not announced if the titles will be released simultaneously or a month apart, as they were in Japan. Regardless, fans can look forward to Dragon Warrior Monster Madness this fall, and RPGamer will keep you updated as more information becomes available regarding the North American release of Dragon Warrior Monsters II.