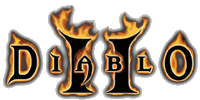 Today at the Game Developer's conference in San Jose, California, represenatives from Blizzard revealed a good news-bit. They revealed that the long-awaited open beta for Diablo II should go gold any day now. They said to watch their site for the next few days, as they will be posting the sign-up information. This has been news that fans of the original Diablo have been waiting for, as it has been many months since the projected beta test's date. However, the time will most likely show through when the lucky ones get their beta CDs.
Also recently announced was a collector's edition of Diablo II. This edition, which will only be available in limited amounts when the game launches, will include many extra goodies. Besides the four game CDs, Blizzard is including a twenty-four minute DVD with the game cinematics on it, in a widescreen letterbox format. They will also include a Diablo II soundtrack, with seventy minutes of music on it. Another nice feature will be the inclusion of the Diablo pencil-and-paper role-playing game made by Wizards of the Coast, based on the popular AD&D rule set. Finally, the collector's edition of Diablo II will come with a manual signed by the Diablo II development team.
The collector's edition will be available at the launch of the title through Babbages, Software Etc., Gamestop.com, Electronics Boutique, and also directly from Blizzard's website. It is expected to cost around $60 to $70, which is a must-have considering the special goodies they are including. The game is expected to be released sometime this Summer or early Fall. Keep checking back here and at Blizzard's official website for details.