| | |
| --- | --- |
| PLATFORM | PC |
| BATTLE SYSTEM | |
| INTERACTION | |
| ORIGINALITY | |
| STORY | |
| MUSIC & SOUND | |
| VISUALS | |
| CHALLENGE | Moderate |
| COMPLETION TIME | More than 80 Hours |

OVERALL


+ Deep, limitless progression systems
+ Exciting, ground-breaking loot
+ Intuitively designed around attributes
+ Balance of challenge and risk/reward
+ Pay to be pretty, not pay to win
- No auction house, trade chat is so 2000

Click here for scoring definitions




As an indie Diablo clone most famous for its being free-to-play and having an impossibly massive skill tree, Path of Exile was an easy game to overlook in 2013. Expecting something ugly, uncreative, and needlessly convoluted, I downloaded the game after the first major content update, Sacrifice of the Vaal, was finished, and found it to be none of those things. Building on the foundation of a loot-driven clickfest in procedurally generated maps, Path of Exile has an addictive balance of customizability, challenge, and reward, many fresh implementations of familiar mechanics, and a passionate development team that doesn't just talk the talk about regularly improving the game — they walk it and it shows.
Gear, skills, and the direction of character growth are governed by three attributes: strength, dexterity, and intelligence. Three starting classes focus on only one of these attributes, three hybrid classes each cover a combination of two attributes, and a generalist class covers the well-rounded angle. Gear, skill gems, socket colors, elemental attacks, and defensive abilities come in three general types to align with a strength, dexterity, or intelligence focus, and hybrid gear and skills cover various ratios of any two attributes. It's an elegant, simple system that encourages a specific style of play for each class and makes identifying useful equipment and abilities quick and painless. A witch, the pure intelligence class, is going to end up using primarily blue gems, intelligence-based armor that grants a regenerating energy shield, wands and staves, and ranged spells. A new character starts with that given foundation and grows from it as she pleases.
This structure is supported by the passive skill tree — a grid with over one thousand nodes. As implied by the name, all the skills here are passive, adding health, increasing specific types of damage, boosting defenses, and so on. Each class starts in a location surrounded by nodes attuned to its base statistic. For example, the aforementioned witch has nearby nodes that increase her maximum mana, mana regeneration, spell damage, energy shield, cast speed, and abilities for her applicable weapons. The strength class starts by nodes that increase armor, maximum life, melee weapon damage, and so on. It's ultimately up to the player to what extent he wants to be overwhelmed; filling the moment's need and taking a balanced path near a class's starting location works fine for most of the game. There's plenty of room for customizability within each class's area of the tree, even without long-term planning.
While the passive skills are permanent once selected, active skills can be interchanged any time. Creating a new use for sockets in an action RPG, Path of Exile's skills come in the form of colored gems equipped in gear sockets of the corresponding color. Gems can be unsocketed and moved around with no penalty, and level up by gaining experience along with the character. Any class can use any skill gem if they meet the str/dex/int requirements, resulting in a significantly more flexible, open, and customizable version of Diablo III's skill system.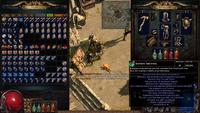 Linking four gems can lead to a complex combination.
Skill options are blown wide open once support gems and linked equipment become available. Support gems in sockets linked to active gems add their effects to the active skill. When several sockets are linked, it's up to the player if he would rather link multiple support gems to one seriously souped-up skill, or give one especially useful support to multiple active skills. The possibilities are endless. This avoids overwhelming the player by gradually doling out skill gems as quest rewards and random enemy drops. The player is not inundated with a hundred skill gems to pick between at once, and most gamers will never see equipment with more than four linked sockets. There's time to learn the ins and outs of the various systems before seeing the full scope of their effects.
The subtle genius of the active skill system is how it, along with the ground-breaking currency system, adds to the excitement of a genre that can become an unrewarding loot grind. There is no gold in Path of Exile. Currency comes in the form of expendable items that randomize a piece of equipment. One item randomizes the number of sockets. Another does the same for the number of links. Bonuses on gear can be rerolled, and normal items can be made into magic or rare ones, all depending on what needs to be fixed in found equipment. Rare, high-level gear with excellent bonuses might be unusable due to the sockets being the wrong color for a character's skills, but a stack of chromatic orbs can change the colors until they fit the need of the moment. Rather than killing hundreds of enemies, waiting for the perfect upgrade to fall, the player can quickly make his own out of something almost perfect, and other than running out, there's no limit to how often currency can be used on an item.
The randomized maps that make up the game's world bring a few surprises as well. The game is usually well balanced — challenging enough to feel like death could come at any moment, while easy enough not to carry this threat out too often — and an impressive diversity of enemy types means everyone will hit upon some zone or foe that's particularly difficult for their build. A stiffer challenge is provided in a couple features. Corrupted zones, added in the Sacrifice of the Vaal content update, are small, optional maps that randomly appear in the world. These zones give bonuses to enemies or afflict the player in some way and contain a difficult unique boss that is often harder to kill and more deadly than the main quest's bosses. With risk comes reward, however, as rare, powerful skill gems only appear in corrupted zones. Coming with less warning are the game's rogue exiles. These foes simulate a PvP experience by having the player run into an extremely powerful exile decked out with high level skill gems, and they can spawn in any map. Rogue exiles provide the hardest fights in the game, can be unbeatable with the wrong build, and also give a huge reward for slaying them.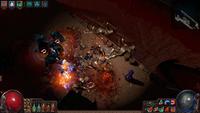 Cull, skeletons, CULL!
What makes Path of Exile stand out beyond the systems and their ingenuity is the MMO-like attention given to it by the developers. Grinding Gear Games frequently releases small patches to fix bugs and tweak balance issues. Every few weeks a patch might add new skill gems, unique items, or enemies, and large updates like Sacrifice of the Vaal make sweeping changes. Much thought went into making the game intuitive and convenient to play with a great interface. For an always online game, it runs smoothly with very minor desyncing issues, a checkpoint system helps keep instances from being lost upon death, and GGG actively addresses bugs and balance concerns in its forums. The full breadth of the game is entirely free. No mechanics, items, or currency can be influenced by real world money, and those who wish to support it can use microtransactions to buy impressive, untradeable cosmetic trinkets. Aside from the usual standard and hardcore formats, GGG has unique, temporary leagues where new gameplay mechanics are introduced, ranging from months-long ones like the current Ambush and Invasion leagues to PvP playtest leagues that only last hours. For experienced players, race events occur regularly and give in-game rewards to top performers. In May 2014, GGG is running a special two week league to raise charity money for Child's Play.
Set in Wraeclast, where past empires discovered skill gems and abused them in abominable ways to their self-inflicted ruin, the game sticks to gritty brown and green hues for realistic visual styles depicting its locations. The textures are highly detailed and look good even when zoomed in. The game's unplayable while zoomed in, naturally, so it's another example of GGG going the extra mile. Most enemies are technically undead, but there are also humanoids, ancient constructs, and animals. There's male and female nudity, thousands of corpses, and dead babies, but none of this is sensationalized within the game; they're just part of the grim setting. There's a threadbare plot about how the player's exile is prematurely saving Wraeclast from a third gem-fueled apocalypse, but it fails to feel dire or selfless given how powerful the exile becomes, and the setting's history isn't explained well. The minimalist music does what loot-crawler music is supposed to do — keep out of the way so it doesn't distract from the visceral thuds and sound effect cues paramount to dungeon crawling.
After spending nearly two hundred hours playing with my first character, mostly solo, entirely with self-found gear, I reached a new appreciation for how perfectly balanced and addictive Path of Exile is straight through to the post-game. I've finished several acts co-op with my brother, joined strangers for post-game map runs, exchanged currency in trade chat, and looked up ideal passive tree progressions and skill combinations online, and yet nothing compares to feeling elated when a foe drops a unique post-game map or an extremely rare, valuable currency item. Endlessly customizable and endlessly replayable, I wish I had the time to try every build that appeals to me, and I haven't felt this way about an action RPG since Lord of Destruction. Grinding Gear Games has created something special here, and given it gratis to the world.
Review Archives