| | |
| --- | --- |
| BATTLE SYSTEM | |
| INTERACTION | |
| ORIGINALITY | |
| STORY | |
| MUSIC & SOUND | |
| VISUALS | |
| CHALLENGE | Easy |
| COMPLETION TIME | 25-50hrs |

OVERALL

3/5


Rating definitions




Almost everyone has folded a paper airplane, or rolled up a newspaper to swat something with it. Odds are good that you've never done either of those things with your own body before, though. That's where the lovable plumber in red - Mario - and his band of misfit friends come in to save the day; your time of not being able to slip between the bars of a cell, roll through a small enclosed airduct, or fly across the room using your own power is well and truly done.
Setting the stage for your latest grand adventure through the Mushroom World is a story much like any other you've heard. A missing princess, mystical treasures to find, and a thousand-year prophecy to contend with are only the backbone on which the charming, if somewhat minimalist, plot is built. Combine the already familiar setting with a time-worn cast of characters and a low difficulty setting, and you've got a great outline for an introductory-level RPG.
If you've ever played one of the Mario RPGs before you should be well aware that their battle systems tend to be an eclectic combination of turn-based and action elements. Paper Mario: The Thousand-Year Door sets its battles very quaintly on a literal stage in front of an audience of Mario's fans and enemies. Each of your companion characters have a different set of combat skills ranging from Tattle, which shows you an enemy's hit points and explains their strengths and weaknesses, to Gulp, which negates an enemy's defense and tosses one enemy onto another. Mario, on the other hand, has three very simple kinds of attacks. His first line of offense is obviously the ability to jump on an enemy. In cases where an enemy has armor or is covered in spikes, Mario has the ability to wallop his foes with his hammer. Last but not least is the ability to use the special abilities granted to you by the Crystal Stars; these powers vary from Sweet Treat, which gives you the opportunity to restore heart points and flower points, to Supernova, which deals up to a massive 15 damage to all of your enemies.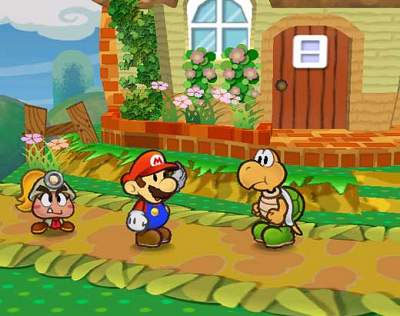 Where's the nearest cola bar?
In many instances, the aforementioned audience of assorted characters is what will allow or disallow you to be victorious in battle. Mario's fans will occasionally give you items, whereas his enemies in the audience can cause all manner of mayhem, be it by throwing things onto the stage or shimmying up onto the catwalk and dropping the lights or sandbags on you. The main saving grace to all of this chaos is that both kinds of audience members can be enthralled to your benefit by performing attacks that are stylish. While a regularly handled jump attack will cause a small number of people to cheer you on and replenish any star points you've spent on special attacks to a small degree, a stylish jump attack - which is performed by an extra press of the A button at just the right time - will cause even your enemies to cheer for you. In addition to keeping them out of mischief this also allows the bad guys in the bleachers to charge your star points which is very important later in the game. In some very special cases an attack will have more than one opportunity for a 'stylish' pose, and although it takes a bit of experimentation and practice to pull off these extra button combos, they're well worth the effort to learn because of the star point replenishing effect they can have.
One of the greatest aspects of Paper Mario: The Thousand-Year Door is its localization. So much attention to detail is given to every shred of text in the game that it is effectively flawless; one example would be that after sleeping at the inn in Twilight Town - an area eternally submerged in darkness - the hostess bids you to, "Have a good twilight," rather than a good day. For the most part the same level of quality is present in the menu systems and the in-game controls, however, the ability to switch companions without entering the status screen or a battle would have been very much appreciated on several puzzle-solving occasions.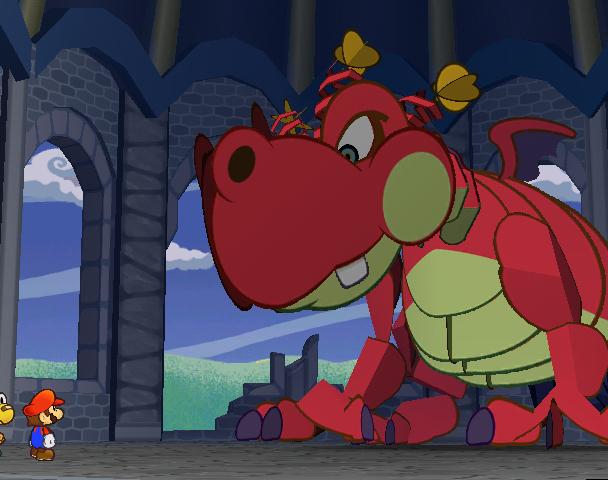 I think the fat-lady just stood up.
Perhaps the biggest problem the game has is that its premise, its characters, and its battle system aren't precisely new material. Everyone has heard of Mario and his brother Luigi, just as everyone who plays RPGs has saved countless princesses, and protected the world on a dozen separate occasions. The game doesn't break any new ground graphically or musically, either, and although it is serviceable in both areas neither is it terribly memorable in either regard.
Paper Mario: The Thousand-Year Door is designed in just such a way that it would make a truly marvelous 'introductory' RPG for someone trying to get into the genre for the first time. Hardcore fans of Super Mario might like to see some of their favorite characters reprised in a new light, while worn-in RPGamers will probably not find a great deal to recommend it for more than one playthrough. In the end, like everything else involving Mario, it all comes down to whether or not you want to play a fun game with only a smidgen of story.
Review Archives