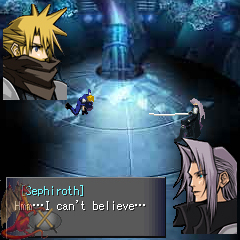 Familiar faces.
After a long, long wait, Final Fantasy VII: Before Crisis is coming to US cell phones. Apparently we finally have one powerful enough to support it. Sadly, no news on the phone it was built for. As you probably know, the game is based around the Turks in a pre-Final Fantasy VII setting.
The game's graphics are really great, especially for a cell phone game. Animation isn't the best, but it works well for a cell phone game. Sound, on the other hand, was nonexistent since it was quite loud on the show floor.
As for gameplay, it mostly revolves around running into enemies and either using physical attacks initiated with the "enter" button on most phones, or using Materia to cast spells. There wasn't much magic accessible, however.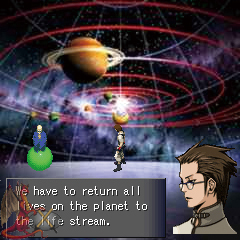 Talkin' to the old man.
Of note: Before Crisis is scheduled for release in summer of 2006. Sadly, however, there is still no list of compatible phones, and the ones shown at E3 were of Japanese origin with no known US counterparts.