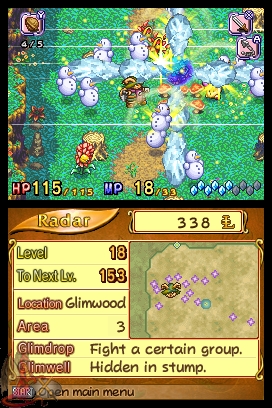 Snowman swarm.
I had the opportunity to play through a couple of levels of Children of Mana at E3, and I found it to be a combination of style from Secret of Mana and Legend of Mana. Visuals will also be similar to Sword of Mana, sharing some improved sprites with its GBA brethren. I fought a number of familiar enemies (rabbites, archers, and a floating sword), used a number of familiar weapons (sword, flail, hammer, bow), and even summoned a Salamander. The trademark ring menus are present and accessed through the shoulder buttons (one for weapons, one for items).
Players can utilize two different weapons at once, allowing for a combination of strategies. My personal favorite was using the hammer to whack enemies across the screen, sending them ricocheting like a pinball. A third button used the currently selected item, making for an easy to learn control system. Also on screen are the HP, MP, and a crystals gauge. The crystals gauge is filled during combat, and once activated allows for a fury time period during which attack is increased. The Salamander could be used on its own as a magical weapon or as a boost to the main character. The second screen is used as a map of locations.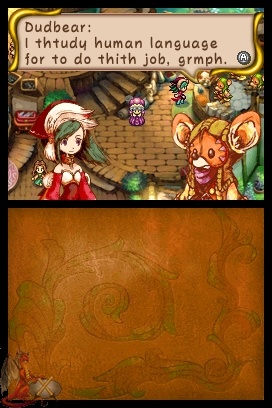 It has an accent.
Very little of the story was presented, but advancement was made through finding gleam drops that have an affinity for a mana streams. While not playable, a representative noted that the final version should include a multiplayer feature for up to four people. Each person must have their own pak.