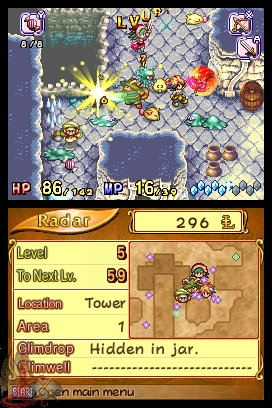 Battle!
Children of Mana for Nintendo's DS was the very first new RPG I played through on the E3 floor, and I found it to be quite a treat. With gameplay somewhere between the original Secret of Mana and the more recent Sword of Mana released for the Game Boy Advance, and a pretty graphical presentation, I found it to be a fairly enjoyable experience.
The demo featured the quest of (presumably) the protagonist, Ferrik, as he ventures through the Mana Tower. The feel of the game as I proceeded was pretty typical of a Mana title, and controls were creatively used and generally well-thought out. Unlike previous Mana games, two different weapons of choice may be mapped to the A and X buttons for use at any time instead of just one, and they can be swapped for other weapons at any time by simply pressing the R button. Every weapon has a powered-up special attack, which may be used by holding its button for a short time. Different attacks can be effective at different things; for instance, hammer attacks can smash large obstacles that stand in your way, while powered up bow and arrow attacks can daze enemies for a time. I found the gameplay to be immediately varied and interesting. The hero, Ferrik, was coached by a fiery Mana Spirit, Salamander, for the duration of the demo, and the spirit could be summoned at any time by pressing and holding the B button. Using this power caused a massively powerful and fun-to-use attack, but at the price of a few MP. Yet another layer of the battle system involves a gauge that slowly fills up as successful attacks are placed and monsters are defeated. After filling it, other special attacks may be unleashed. The battle system felt very solid throughout the entire demo, even at the boss of the tower, a fiery bird who proved to be a very challenging adversary.
His face is melting off...
Children of Mana looks to be a new and unique addition to the long running series, and fans should watch for news in upcoming weeks as more details surface.