| | | |
| --- | --- | --- |
| Issue #82 | The Rocket's Red Glare | July 6, 2007 |
Thanks for coming back, everyone!
It's a couple days late, but happy birthday, America! This year, I celebrated the birth of our country in the most quintessential way possible: barbecue, beer, and blowing stuff up. I'm usually against anything having to do with being outdoors in the sweltering heat, but even I make exceptions for Independence Day. Plus, setting off a fireworks display in my bedroom is a great way to damage several thousands of dollars worth of electronics.
Anyway, I've sobered up, the flavor of bratwurst has left my tongue, and although explosions still sporadically pierce the air, they lack the same gusto as those from last night. So, it's time to return to business as usual.
NCSoft announced this week that post-apocalyptic automobile combat MMORPG Auto Assault is shutting down for good. The game will cease live service at midnight on August 31. Any players with an active account as of July 2 will not be billed again, and any players whose payments have been made beyond July 31 will be reimbursed.
NetDevil, Auto Assault's developer, was in discussion with NCSoft for a while about purchasing the rights to the game and running it themselves, but an agreement could not be made. NetDevil still retains the rights to the engine used to create the game, however, so there is a chance that something may still come of that.
It's always sad to see an MMORPG bite it, since outright closures don't happen very often. Auto Assault was barely over a year old, and had a very unique and innovative premise, which makes the closing a bit sadder. So, here's to you Auto Assault, and to you, NetDevil. We all hope your next game will be better received by the gaming public.
*Pours out a little Colt .45*
There is no doubt that gaming culture has come under more intense fire since this spring. Jack Thompson, Fox News, various watchdog groups, and angry parents are all having you believe that video gaming is a pox upon civilized life that must be scoured away with the harshest abrasives. So it's always a breath of fresh air when a report comes to light detailing the benefits of gaming. It makes us even happier when the gap between detractors and gamers is bridged by an MMORPG.
A study conducted by Doctor Simon Bradford and Nic Crowe of Brunel University's School of Sport and Education has recently revealed that gaming has positive effects on young adults. The study took place over a course of three years, following 13-16 year old subjects as they played Runescape. The doctors found that playing and interacting with others through the game provided opportunities for self-expression and growth that are not easily found in the modern world.
Nic Crowe says, "Virtual environments, like Runescape, form important new leisure spaces for the many young people who occupy them. In the real world, where streets or town centres have become inaccessible to many young people or are considered risky or unsafe by them or their parents, it is not surprising that virtual public space has become increasingly attractive as a leisure setting. Our research explored how Runescape's appeal lay in the provision of an environment in which young people can experiment (symbolically) with the cultural institutions and structures of the material world -- a space in which young people can establish their presence, identity and meaning in ways that might not be accessible or permissible in their everyday lives."
Dr. Simon Bradford explains the role of MMORPGs in leisure: "We met many players taking part in online role playing, sometimes to extend or to compensate for experiences in the real world. For example, young people whose parents could not afford a summer holiday enjoyed virtual holidays online -- hanging out with friends, visiting beaches and going to clubs at night to meet new people."
Through interaction with others via the game, the study claims, gamers are able to experiment with new identities of race, gender, or ability and gain acceptance and understanding of such personal qualifiers. Another opportunity provided by Runescape, according the the study, is a way to discover aspects of social life and interaction that might otherwise lie dormant in young gamers.
"We noted how entrepreneurial young players engaged in business deals online, experiencing positive opportunities often not open to them in the material world," states Dr. Bradford. "At a time when emerging technologies such as the internet, and computer games in particular, continue to be subject to suspicion and concern it is important that we also recognise the benefits of what is an increasingly popular and important activity for our young people."
Well said, Dr. Bradford.
The two hope to continue their gaming studies, with their next study focusing on behavioral differences between genders in gaming. Perhaps the psychology of gaming will become a larger field of interest in the future?

Guild Wars: Eye of the North (EotN), the highly anticipated true expansion for Guild Wars, found a release date this week. Gamers in the US and Europe can look forward to receiving their copy on August 31.
Eye of the North is a massive update for the popular Guild Wars. The expansion features all new areas containing 18 new dungeons to explore. Also featured are 150 new skills for all classes, 10 new Heroes, and a bunch of new armor, weapons, and items to obtain. Notably, this expansion will reveal the Hall of Monuments, which is the in-game method of preserving aspects of your character for use in Guild Wars 2.
The expansion has an MSRP of $39.99 (£24.99 and €34.99).

Have you still not pre-ordered Sword of the New World: Granado Espada (SotNW)? Elephant Entertainment will break you, oh yes.
The second possible SotNW pre-order exclusive character has been revealed. Najib Sharif is one of four possible bonus characters available to players who purchase SotNW at retail. Sharif is a wealthy gun merchant who travels a lot. He is fast, his combat ability is slightly better than the stock Musketeer, and he has good defensive qualities, making him akin to a Musketeer/Fighter hybrid.
See for yourself:
Sword of the New World hits retail on July 10, so those who wish to pre-order had better hurry up.

Former Lineage II: The Chaotic Chronicle players, Aden needs you!
Lineage II is inviting former players to return to the fray this week. All paid accounts in good standing from January 1, 2006 to May 31, 2007 will have their accounts reactivated from July 3 to July 10. In addition to being able to return to the game for free for a week, the highest leveled character on the account will receive vouchers for two shadow weapons, two shadow armors, and two consumable items. During the event, all existing accounts will receive one each of the former tokens.
Now's the time to get back into LII! Full details can be found here.
On July 7, 2006, Myth War Online began international service as an open beta. One year later, Internet Gaming Gate is celebrating Myth War's first birthday!
Beginning July 7 and running through the 13th, a ton of events are going to be held in Myth War Online. A PK event, hide and seek, a trivia contest, and a make a wish event will all be held throughout the festival. Also to celebrate the anniversary, a new constellation pack will be made available in the item mall containing new pets based on the signs of the zodiac. The pets in this pack are Aquarius, Pisces, and Capricorn.
To read up on the fun, check here. To check out the new constellation pets, head over here.
I like explosions.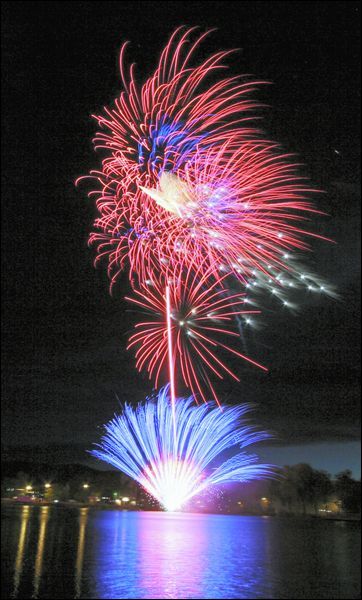 Ooooooohhhh... Ahhhhhhhhh...