| | | |
| --- | --- | --- |
| Issue #33 | Ride the Snake | May 21, 2005 |
A little short on the news by way of that E3 thing getting in the way, but some other stuff still made it out there. I updated the MMORPGuide with categories after each game name.
Now for useless non-column-related blabber because I don't care to keep a blog. Man, being on that "Home Team" was awesome. I felt like I was operating with some sort of military intelligence group, and, in a way, I was. Even though there was a lot of "work" to be done, and it became straining sitting in front of a computer for nearly every hour of the day, it was a definite blast. It's one of those things that's fun, but when it's over, you're kinda glad, even though you look upon it with some sentiment. I chose Rena's weekly picture with this odd feeling in mind.
The Lord of the Rings Online website has added another Dev Diary, this one by Chris "Hakai" Clay. In it, Clay talks about many things, including how he got started in the field of game developing and gives a brief overview of his work on Lord of the Rings Online.
He details what kind of artificial intelligence the team is trying to implement, saying, "Once we have the AIs in the appropriate setting, the next task is to tie them into the environment. Enemies standing around facing random directions have no attachment to their environment, no goals, and no motivations." If I do say so, the whole thing is quite informative. You can see it all here. Nocturnal Monkey, a member of the Lord of the Rings Online forums, said, "I like it!"



E3 wasn't enough for Webzen. Since May 19, the company has been showing MU Online to audiences in select SM Malls throughought the Philippines. MU Online will be touring the cinemas of SM Megamall, SM North Edsa, SM Southmall, and SM Fairview. Aside from showcasing the game, MU's interactive booths will have PCs set up for game demonstrations, trials, and contests as well as to facilitate free game account registration. Game merchandise such as posters, collectible cups, and more will be available at SM Cinemas' snack bars from June to July 2005. Game merchandise will also be given away as prizes at the MU booths.
MU Online will also be in the cinemas of the following SM malls:
May 20-26: SM Baguio, SM Cebu, SM Pampanga.
June 1-7: SM Megamall, SM North Edsa, SM Centerpoint, SM Manila, SM Southmall.
June 15-22: SM Megamall, SM North Edsa, SM Centerpoint, SM Manila, SM Fairview.



The original EverQuest still has loyal group of addicts running around in it. Now, Sony Online Entertainment is planning to raise the monthly subscription cost--a tactic often used by heroin dealers. The official press release says, "Due to the increased costs of running the EverQuest game service, we will be increasing our subscription rates in June. Effective June 12, 2005, the new monthly subscription rate will be $14.99/month." Those that have a Sony Station Access Pass will not be affected.
SOE goes on to mention how long-term plans can be purchased at less expensive rates. Between May 12, 2005 and June 11, 2005, players can take advantage of a six or 12-month limited time subscription and dodge the $15/month rate. Full pricing and details can be read right here.

This weekend is "Double EXP Weekend" for owners of the new Asheron's Call 2 expansion pack, Legions. Quest EXP has not changed, but the amounts given for defeating enemies have seen the aformentioned increase. The odds of finding rare items has increased, and some formerly retired ones are findable once again. Players will be able to take part in the event by speaking to special characters at the three nexus stone locations. The event will begin on the evening of Friday, May 20th, and run through the weekend.
In the words of Turbine Entertainment, "Double-XP Weekend is a way to give players who created new characters after upgrading to Legions a little boost to help them catch up to their fellow allegiance-mates. It's also our way of saying, 'Welcome to Legions!'"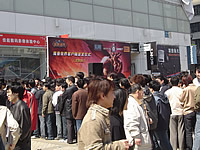 Man, these guys just can't catch a BREAK.


"Roberto" sent in some Guild Wars screens, saying, "Before people start writing in, I know it's Dagoth Ur, not Ru, but it's a joke that i'm too lazy to explain right now." His own captions are below the table.


1. My favorite one. My friend Lara posing for the pic in front of the big wall. You can see her at the lower right corner.
2. A great view :D
3. Raising camp after taking a break at that giant crystal.
4. Wish I had a window like that at my house.
5. Lara and I holding hands :Þ
6. Lara again at some church ruins.

Your should send me your screens!




E3 letters. Cool.




Hey Mr. MMORPGamer.
Just saw E3 games and one caught my eye, what is Tabula Rasa like? What information do you have? Thanks!!

#James#
HEATH
Unfortunately, not much is known about the game at all. We know that it's an MMORPG with shooting in the combat system, and have pretty screens, but that's about it. For a while, the game's website was just blank saying "the game is transforming, blah blah blah...." Then it updated, as reported during the E3 coverage you seem to have read. For those who have no idea what James and I are talking about, read this. To know the latest about Tabula Rasa, keep your eye on that official site (linked within the news) and my awesome column.


i'm confused, what is the connection between city of heros and city of villins? does it bring playable bad guys into coh or what?

HEATH

Heh, a makable mistake I guess, if you have ADD...which I guess we all do, to a certain extent, myself included. To answer your question in one word: no. City of Villains is a completely separate, standalone, independent game. Yes, I used many words that mean the same thing in that sentence for emphasis. It's made by the same people and has a similar theme, but players take on the roles of villains instead of heroes; and no, I've seen no plans to have other players be the heroes. It would be like making a reverse Lord of the Rings Online in which players control Uruk Hai.

Players of CoH are given first dibs on CoV beta testing, but that's about the biggest connection.

Edit: Upon being directed to a recently-posted FAQ, I have seen that City of Villains will have, a few zones "overlapping" with City of Heroes. Thanks to community member "Seeker" for the tip.






What the hades is SUN? -Benjo

HEATH

I only first heard of it when Webzen's E3 lineup was announced about a week ago. The sum of my knowledge comes to about this: it's a 3D MMORPG by Webzen, makers of the uber-popular MU Online. There's an E3 impression and some eye candy on our E3 page you can look at for now, though.




All that E3 updating was pretty cool. In a sick, disgusting way, I kinda miss it. Letters about those games are encouraged, as well as suggestions and feedback on that MMORPGuide I'm still building.


This column is brought to you by letter E, the number 3, and Heath Hindman



rage@rpgamer.com