Hello everyone, and welcome to the latest installment of Japandemonium. This past week was all about Final Fantasy X-2, as you'll see in a moment. Square's last PlayStation 2 release before merging with long-time rival Enix dominated the video game landscape in Japan. Despite having given up on Final Fantasy X two thirds of the way through, this game sounds fun enough that I might just have to check it out. Enough about me, though, let's examine the aftermath.
Square's 15 year run of avoiding direct sequels to its Final Fantasy games came to an end on Thursday when its latest offering, Final Fantasy X-2, hit stores in Japan. While the lines weren't as impressive as those garnered by some previous big-name titles, the game did manage to lure more than a few gamers out of their beds and into queues in the middle of the night. Several stores across Tokyo opened for business at (the ungodly hour of) 6:30 am, though there were only a few die-hards outside most of them at this early hour (see the forlorn vistas of Sofmap and AsoBitCity below). The exception to this was Tsutaya in Shibuya, which saw over 200 eager gamers brave the early morning to get their hands on the title. The lucky (or insane, take your pick) gamer at the head of the row arrived there at midnight, a full seven hours before the countdown to launch expired at 7am. He was, however, rewarded with a photo opportunity with the event's special guests.
The turnout at Shibuya Tsutaya was no doubt bolstered by the presence of Square-Enix's new president Yoichi Wada, current Enix president Keiji Honda and pop idol Kumi Koda. Koda gave attendees a performance of the game's theme song, "Real Emotion," and also spoke about her role in the game. She was motion-captured for the "idol scene" that features Yuna performing "Real Emotion." Wada spoke a bit about the genesis of the project, explaning how the strong fan support for Final Fantasy X convinced Square that making a sequel to the story was the right way to go. He also mentioned that the game would take about 20-30 hours to complete, though there is enough to keep gamers occupied for over 100 hours (more than likely taking into account the New Game + feature revealed this week). Echoing Final Fantasy producer Yoshinori Kitase's earlier statement, Wada crushed the dreams of many FFX fanboys, stating that there are currently no plans for a Final Fantasy X-3. All in all, 1.8 million copies of Final Fantasy X-2 were shipped to stores this week. Unofficial numbers, released on Friday, have first day sales of the game at around 1.2 million copies, with Hori's Twin Bee controller (seen below) flying off the shelves, too.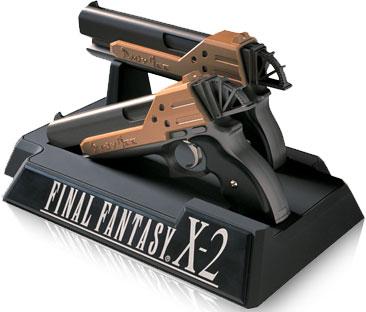 This week's issue of Weekly Famitsu features only one RPG review, that being for Arc the Lad: Seirei no Koukon (Twilight of Spirits when it sees release in North America). Sony's new first party title didn't wow the editors of the esteemed magazine, but eked out a Silver Award nonetheless. The game is set for release next Friday, March 20th. Check below for the individual editor scores.
Title (Publisher), Console, Editor Scores (Total)
Arc the Lad: Seirei no Koukon, (Square), PlayStation 2, 8 / 8 / 8 / 7 (31/40) Silver Award
The latest Dengeki Console chart has a distinct musical chairs feel to it. Star Ocean 3: Till the End of Time clung onto the 2nd spot, fending off Capcom's latest title, Chaos Legion. The other new entry this week is Namco's Tales of the World: Summoner's Lineage for the Game Boy Advance, though sales for the game were not too spectacular. This week's release of Final Fantasy X-2 was more than likely responsible for the slight jump in sales experienced by its predecessor, Final Fantasy X. The rest of the Top 20 is stuffed with RPGs, which turned in their best performance in many months. Below are the numbers for RPGs in the Top 20 for the week ending March 9th.
Position; Title (Publisher), Console, Sales this week; Total Sales
2. Star Ocean 3: Till the End of Time (Enix), PlayStation 2, 63,392, 412,963
3. Chaos Legion (Capcom), PlayStation 2, 50,623, 50,623
8. Final Fantasy Tactics Advance (Square), Game Boy Advance, 21,767, 346,211
9. Sakura Taisen: Atsuki Chishio Ni (Sega), PlayStation 2, 21,304, 163,655
10. Pokémon Sapphire (Nintendo), Game Boy Advance, 15,467, 2,045,412
11. Pokémon Ruby (Nintendo), Game Boy Advance, 14,325, 1,995,407
12. Shin Megami Tensei III: Nocturne (Atlus), PlayStation 2, 14,209, 204,213
17. Tales of the World: Summoner's Lineage (Namco), Game Boy Advance, 11,289, 11,289
19. Final Fantasy X Mega Hits (Square), PlayStation 2, 6,354. 53,238
You may remember that we reported last September that there is a new Hanjuku Eiyuu game in the works for the PlayStation 2. Square revealed this week that gamers can *ahem* egg-spect to get their french toast-covered claws on Hanjuku Eiyuu Tai 3D in June this year. That's a scant three months until you can unleash all sorts of carnage in your ovoid form. For the uninitiated, the game stars a hero with the ability to transform into an egg-like creature while defending the virtues of his 2D world from vicious 3D invaders. While this might seem like a bit too much for the puritanical tastes of us occidentals, our Japanese brethren have already scarfed down three previous games in the series. Expect more details on this quirky PlayStation 2 title as June nears.
Avast, ye mateys! European game site Kikizo recently had the opportunity to sit down with the presidents of Sega's numerous game divisions. During the interview, Overworks president Ohba Noriyoshi dropped a nugget that will delight fans of the development team's swashbuckling RPG, Skies of Arcadia. Noriyoshi stated that the sequel to the highly regarded title is, "in the planning stages at the moment." Obviously we're going to have to wait for a while till we get to take to the skies again, but it's heartening to know that the game is in development. Yarr!
The last item this week is a bit of non-news, but it's cool nonetheless. Nintendo's awesome Game Boy Advance title Legend of Zelda: The Four Swords hit Japan today. Below is a picture of the great cover of the Japanese version, and also the crappy, rehashed one that got forced down our throats for comparison.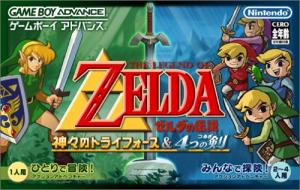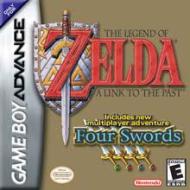 I'll close off this week with a couple of requests. I'm thinking about importing the English version of Shining Soul from Europe, and I was wondering if any readers out there have given the game a whirl. I would like to hear some opinions on the game. You can email me or post your thoughts on the message board. Also, I'm getting tired of looking at that dull Japandemonium "logo" (using the term very loosely), and I'm looking for some reader submissions. Send me anything that you feel is appropriate for the column. I might even have a gift for the reader that supplies the best one. Till next time.
Update, 03.15.2003: I forgot to mention something. For the logo submissions, please provide them as a 125 X 75 gif.
Exeunt all
Missed an installment? Check out the archives.