Ever have one of those weeks where you hardly had time to breathe? This has been one of those. My pile of unfinished games looks at me with puppy dog eyes every night, and I'm forced to give them the cold shoulder. Unfortunately (for me), there are some high-profile games just around the corner, which means that that pile's just going to grow and grow. So, let's do this, so that I can rectify that situation, shall we.
Looks like I spoke a little too quickly last week about Nintendo's cash critters dominating sales charts for the next while. This week's Dengeki chart does indeed herald the arrival of a new top-seller, that being Armored Core 3, which bumps the Pokémon titles down to the 4th and 5th spots. Both games should cross the 2 million-mark in February, too. All in all, RPGs took a bit of a beating this week, with several titles slipping out of the top 20. Check out the list of top-ranking RPGs below, for the week ending January 31st.
Position; Title (Publisher), Console, Sales this week; Total Sales
4. Pokémon Sapphire (Nintendo), GBA, 37,989, 1,914,660
5. Pokémon Ruby (Nintendo), GBA, 37,511, 1,873,405
13. Kingdom Hearts Final Mix (Square), PS2, 10,238, 323,340
14. Atelier Marie, Elie & Anis (Banpresto), GBA, 8,788, 8,788
15. Legend of Zelda: The Wind Waker (Nintendo), GameCube, 8,256, 587,550
16. Final Fantasy X (MegaHits) (Square), PS2, 8,091, 16,796
17. Unlimited: SaGa (Square), PS2, 7,897, 381,222
This week, Sony Music Entertainment announced a couple of soundtracks for Atlus' devilriffic Shin Megami Tensei series. First up is the original soundtrack for the upcoming Shin Megami Tensei III: Nocturne. In addition to the game's music, the disc will also contain links to exclusive online content.
This soundtrack is accompanied by a compilation CD titled "Shin Megami Tensei Sound Collection," which will feature music from the PlayStation Shin Megami Tensei remakes, as well as the recently released Xbox entry, Shin Megami Tensei Nine. Both CDs are scheduled for release on March 5th, for 2,900 ¥ ($24) each. Check out the cover artwork for both CDs below (click for bigger versions). (See below for more on this game.)
SME has also announced another Final Fantasy Tactics Advance soundtrack, though this one is a bit of a departure from the previously announced versions. Dubbed "White: Melodies of Final Fantasy Tactics Advanced," the CD contains eleven tracks, running about 45 minutes, performed acoustically especially for the release. As with the Shin Megami Tensei CDs mentioned above, the disc contains links to limited-access regions on the Internet where exclusive downloadable content can be obtained. The disc hits stores on February 26th and will retail for 3,045 ¥ ($26).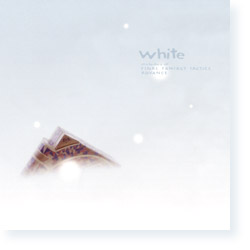 With the release of Shin Megami Tensei III: Nocturne just around the corner, Atlus has decided to turn the promotional knob to eleven. This past Saturday, the company hosted an event that went above and beyond the norm. The creators of the game, Kazuma Kaneko and Cozy Okada (damn, does that guy ever not wear shades), were on hand for a bit of a Q&A session and also spoke in general about their latest project. Gamers in the mood for a serious helping of MegaTen goodness are in luck, as Kaneko was bandying play-times of 80-100 hours about. The masses on hand were treated to a quiz show, free swag, and the chance to take the finished game for a run.
That's not all, however. Atlus also showed off three versions of the game's television commercial (see screen shots below). Several cast members that have had ties with the series were on hand, too, and they discussed the experience of bringing the diabolical world to life. Attendees were treated to a behind-the-scenes look at the making of the aforementioned commercial. Check out images from the event below (click for bigger versions). Shin Megami Tensei III: Nocturne is on track for release on February 20th.
One of the most revered video game publications in Japan is Famitsu, a weekly publication that carries a lot of sway in the games market. As a new feature in Japandemonium, I will occasionally be presenting review scores for RPGs rated in the periodical. The magazine uses a similar format to the North American EGM, with four reviewers doling out scores (out of 10) and games scoring 34 and above garnering a Gold rating. Here are the scores for RPGs from the latest issue.
Title (Publisher), Console, Editor Scores
Final Fantasy Tactics Advance, (Square), GBA, 8 / 8 / 9 / 9 (34/40)
Venus & Braves, (Namco), PS2, 8 / 9 / 9 / 8 (34/40)
That score for Venus & Braves segues nicely into this little snippet. Namco is currently holding a competition for a very lmited edition Venus & Braves binder, based on an actual in-game item. Gamers that give the title a whirl can then head off to Namco's Venus & Braves site and answer questions based on the game. Of the successful entries, only 77 will chosen at random to receive the stylish binder shown below. Worthy of serious props, or beaucoup bucks on eBay (your call).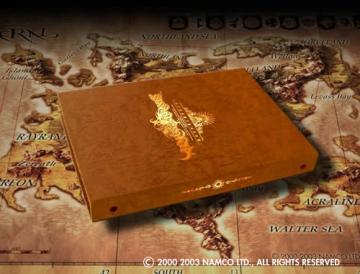 Nintendo is just about ready to ship the Game Boy Advance SP, and to get some extra press (as if they needed it), the company held a promotional event in Tokyo yesterday. On hand were numerous bigwigs, including Nintendo prez Satoru Iwata, game god Shigeru Miyamoto, Enix president Keiji Honda, Square's Shinji Hashimoto, and Final Fantasy Tactics Advance producer Yasumi Matsuno. Nintendo has big plans for its new handheld, with 20 million units set to ship by next year. Square announced that the FFTA-GBA SP special edition, announced a couple weeks ago, sold out in five days at the participating 7-11 online and offline stores.
Another nugget coming from the event was a solid release date for Enix' upcoming title, Dragon Quest Monsters III: Caravan Heart. The game is slated to hit stores next month, on March 29th. Check out some pics from the show, as well as the final Japanese packaging for the GBA SP, below.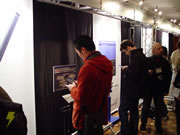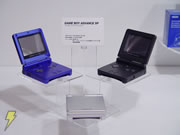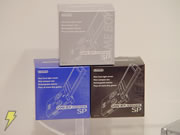 What a week. I would like to take this prime real estate down here for a personal comment. As human beings, one of our most important instinctual urges is to explore, and none embody that more than astronauts. The events of this past weekend were truly a tragedy. To the crew of the Space Shuttle Columbia: I salute you.
Exeunt all
Missed an installment? Check out the archives.