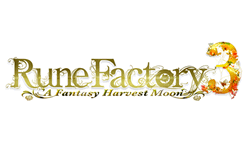 Natsume has announced that Rune Factory 3 has gone gold. The game is set to release on November 9, for the retail price of $29.99.
Rune Factory 3 combines the fun of Harvest Moon with an action-RPG. The game tells the tale of Micah, a boy with a mysterious power, and his journey to stop a bitter conflict between two age old rivals. The game includes more than a hundred new quests and an even deeper multiplayer experience. Players will be able to invite villagers to help them complete quests, while the multiplayer mode allows for up to three people to join in locally to participate in quests and share items.
For more information check out Natsume's website and RPGamer's E3 impression.