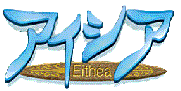 Atlus has announced its upcoming Playstation title Eithéa will be released on February 22nd, 2001 in Japan. Previously, the company had estimated a November 22nd, 2000 release, but obviously, that is not going to happen. There will be two versions of the game available; the regular edition, and the DX special edition, which comes with a host of extras, including a phone card, a pendant, a clock, and a set of Eithéa collectibles.
Eithéa is the story of a Japanese high school which is suddenly launched into an alternate dimension by an earthquake. The game boasts an original battle system known as Latent Ability Voltage, which is guided by the mental status of the characters. LAV also has an impact upon the characters' behaviour in battle, and can influence their abilities as well.
A North American release of Eithéa has not been announced.