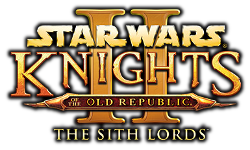 After a decade of pleading, Aspyr Media released Star Wars: Knights of the Old Republic II: The Sith Lords for Mac and Linux earlier this week. This updated port features:
Achievements (both Steam and Game Center)
Gamepad support
Support for widescreen and native resolutions, including Retina/4k/5k resolutions
Steam Cloud saves (Steam only)
Steam Workshop support (Steam only)
A number of bug fixes to the game
Asypr Media also worked with the team behind The Sith Lords Restored Content Mod, a massive community effort to restore and clean up some game content that never made it into the final release of Kotor II. The mod is now available through the Steam Workshop or via Game Agent for the Mac App Store version. It should be noted that all of these updates carry over to the Windows PC version on Steam as well.
The game is available on Steam and the Mac App Store for $9.99, although the game is currently 25% off until August 1, 2015. A mobile port is also possibly in the works but Aspyr Media is asking fans to show interest first before any commitment is made.