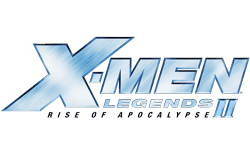 Activision recently released a considerable amount of information regarding it's upcoming X-Men RPG, X-Men Legends II: Rise of Apocalypse. Online multiplayer, a flexible mission outline, and PSP/PC exclusive content were all touched upon in this disclosure.
Building on the multiplayer aspects that made the original title such a success, X-Men Legends II allows players to compete or cooperate online. Six different sortie modes will be made available, offering up PvP action, combat against enemies, online-only content, and more. Online co-op will enable four players to assist each other with story advancement, and players may join these instanced scenarios at any time, rather like Phantasy Star Online.
Another addition to the X-Men Legends formula is the inclusion of a player-selected mission order. Over seventy free-roaming areas are made available to the player, and the decision to explore, gain experience, finish previous missions, and stock up on equipment is left entirely up to the player. Also, a number of difficulty levels should add a certain amount of replayability.
Gamers who purchase the PSP version of X-Men Legends II will be treated to a certain amount of exclusive content, namely four exclusive playable characters and several exclusive levels. Likewise, PC gamers will be given their own share of exclusive content, much like that in the PSP version.
X-Men Legends II: Rise of Apocalypse has been rated "T" for Teen by the ESRB and has a suggested retail price of $49.99 for all console versions. Players can expect to see all versions -- Playstation 2, Xbox, Gamecube, PSP, and PC -- on store shelves sometime this fall. For a look at some new screens or the Playstation 2 packaging, click here and here respectively.