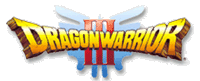 Enix's Dragon Warrior III for the Game Boy Color and Game Boy Advanced has begun shipping today. After selling almost 6 million copies in Japan, the classic NES game has finally been remade for the GBC. Boasting a whopping 32 meg cart, Dragon Warrior III is twice as big as the previous Dragon Warrior I+II remake released last year.
Stuffed onto the monster cartridge are numerous additions to the original: all new minigames, a set of collectable monster medals, and brand new battle and spell animations. Also included with the game is a poster, previously unreleased in North America, featuring art by Akira Toriyama, Dragon Warrior's character designer. Finally, as previously reported, Electronics Boutique is offering a coupon with the purchase of Dragon Warrior III for $5 off Dragon Warrior I+II.
Due to these numerous special additions, the immense size of the cartridge, and current high demand, supplies will be very limited and Dragon Warrior III could sell out rapidly. So, hurry to your nearest electronics store and take advantage of this amazing offer for an amazing series.