First there was Dragon Age: Inquisition. Then there was the Deluxe Edition featuring a plethora of virtual goodies. Now, the probable final edition of the game has emerged—the Dragon Age: Inquisition Inquisitor's Edition. This mouthful of a package comes with an appropriately massive amount of loot and retails for the nug-stunning price of $169.99.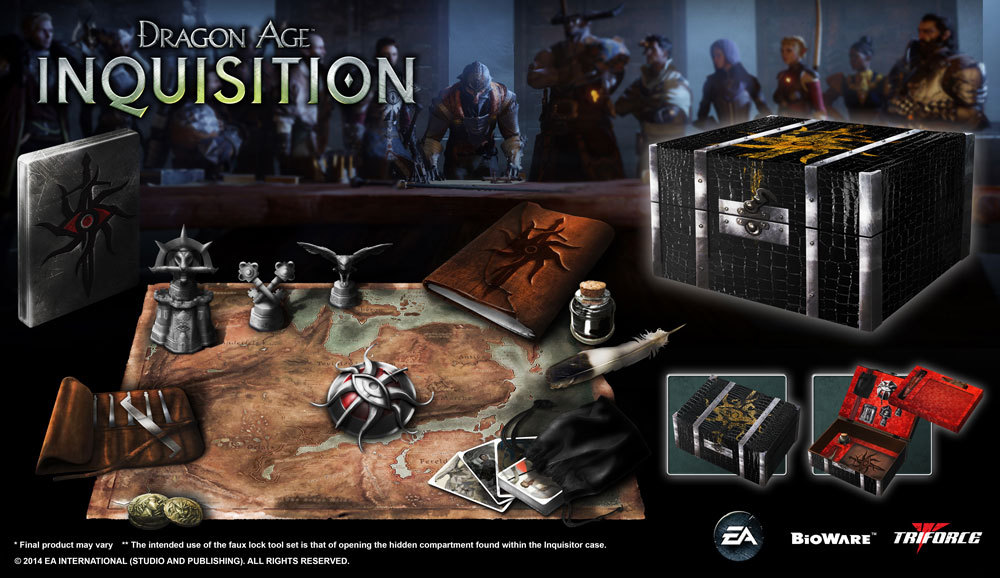 This physical collector's edition comes with the following items:
Highly detailed exclusive Inquisitor Collector's Edition case, individually wrapped in faux reptile skin - has the mark of the Inquisitor stamped on top in gold foil, with an interior fitted with imprinted red silk.
Cloth map of Thedas drawn to scale measuring approximately 22" x 32".
72-card Major and Minor Arcana tarot card deck with custom artwork depicting mythology from Dragon Age lore.
Inquisitor full scale, six piece, lock tool set
One set of four full scale map markers each approximately measuring 3.5" x 3.5" x 4".
Inquisitor's Badge.
Quill and inkpot.
40-page Inquisitor's Journal.
Orlesian coins.
Limited edition SteelBook case to house your copy of the game.

It also includes the content from the Deluxe Edition, including:
Skyhold Throne - Every ruler should sit in a place of high honor, but as the Inquisitor you will have the greatest of all, fashioned from an ancient dragon skull.
Red Hart Halla - Traverse the perilous, living world atop this great-horned beast.
Bog Unicorn - Once belonging to an evil marauder, this unique mount has returned to inspire fear into those who would oppose you.
Digital soundtrack.
Bonus digital content - to be announced.
Flames of the Inquisition gear and mount.

Dragon Age: Inquisition releases on October 7, 2014. It will be available for PlayStation 3, PlayStation 4, Xbox 360, Xbox One, and PC.