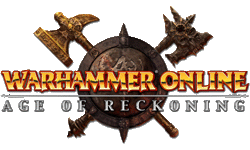 Although RPGamer began their coverage of Warhammer Online just a scarce 7 days ago, today Games Workshop representative Robin Dews announced that production would cease immediately. The online title, previewed by RPGamer staff members at E3, has been in production for a number of years but only recently began to approach the point of being shown to the public.
Also announced was the closing of the official website to happen "with immediate effect". Warhammer, a classic table-top RPG was to make its video game debut with an ambitious MMORPG inspired by English landscape in the era much like the Spanish Inquisition. A transcript of Mr. Dews' announcement can be found below and on the Official Website:
It is with a great deal of sadness that I have to inform the community that we have decided to discontinue the development of Warhammer Online and will be closing down this website with immediate effect.
This has been a difficult and painful decision but it was taken following a following a full review of the progress of the game, costs to date and future costs of the project. As a result both Games Workshop and Climax Development Limited, the computer games developer, have agreed to terminate the development project.
I would like to say a personal thanks to all of the people who have followed our development over the last few years, your constant support and enthusiasm has meant a great deal to us.
Robin Dews