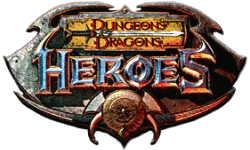 Atari revealed today that Dungeon & Dragons: Heroes, which was previously planned for release on the PlayStation 2, GameCube and Xbox Platforms, will now only be released for the Xbox when it comes out. The release date has also been slightly modified to an October 2003 timeframe.
In the vein of the arcade adventures, D&D: Shadow over Mystara and D&D: Tower of Doom, popularized by Capcom in the early 90's, D&D: Heroes is planned as a combat oriented RPG version of Dungeons and Dragons, which will allow players take the role of a fighter, wizard, cleric, or rogue. Participating with up to four players simultaneously, groups will be able to wade their way through seven distinct environments including an ominous floating castle and the frozen lands of the undead.
In other news, Infogrames, the designer of D&D: Heroes and other games such as Neverwinter Nights, has announced that it will be merging its brand name into the Atari line and all future releases by the company will come under the Atari name. In addition, Infogrames Interactive, the wholly owned subsidiary of Infogrames responsible for developing titles based on Hasbro board games, will change its name to Atari Interactive.