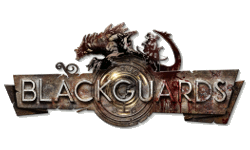 Daedalic Entertainment's debut RPG, Blackguards, has received some additional DLC, as well as a new patch. Titled Untold Legends, the DLC expands the story of Blackguards by providing more details on the background former slave and arena gladiator Takate. Players will be able to learn how he ended up as a gladiator, and will also have the opportunity to grant Takate revenge on the slavers who caused his life to turn out that way. The DLC will also add new weapons, new quests, ten new battle maps, and twenty-five previously unreleased music tracks. Those who have purchased the Contributors Edition via Steam will receive Untold Legends for free, while those who have not can purchase it for $5.99/£3.99/€4.99.
Along with the DLC, Daealic Entertainment has also released Patch 1.3 for the main game. Included in the patch are improvements to the game's balance, the ability for players to see their character's hit chances without requiring to level certain talents, and the option to display a full battle log including dice rolls. RPGamer's review of the original release back in January can be found here.




To view more DLC screens, click here.