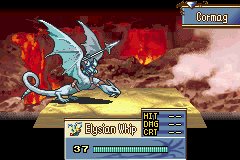 A man riding a dragon
I found Fire Emblem: The Sacred Stones at Nintendo's Game Boy Advance display. I picked it up and jumped right into a battle. It didn't really impress me. The graphics were flat and not up to the GBA's capabilities. They looked more like Game Boy Color graphics. The tactical gameplay was rather bland and straightforward. I moved my characters around and defeated my enemies. The first battle went very smoothly, so I continued to play.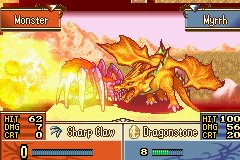 RAGE
The second battle had two objectives: protect an NPC and retrieve a stolen bracelet. I was able to "rescue" the NPC, but getting the bracelet was another matter. I defeated all the thieves, but I could not go anywhere else. The game kept playing my turns over and over. I could not exit the battle field, climb the stairs, or even open a treasure chest with the key I found. I decided to reset the game, lest some unfortunate person wander into the pointless battle, and I walked away in search of better gaming experiences.